Entryway tables have long been there to greet your guests at the door and give them a glimpse of the inside of your home. They are a representation not only of your house's style but of your own personal taste, so why not make a compelling first impression? Check some of the most inspirational ideas for entryway tables we have gathered for you!
Elegant Rustic Style

© www.livingspaces.com
A rustic touch to your entries is always a good option if you want to go with a more wholesome look that is full of the country warmth. You can pair your table up with some elegant, rustic decorative pieces to complete the scene.
Chick Console Style

© www.wayfair.com
Let your console table speak of your home's elegance and modernity. A three-tier console table is both a beautiful and unusual design that will catch your visitors' eyeballs from the very first sight. You can keep it minimalist or add a few antiques to give your table even more charm.
Chateau Balustrade

© homyhomee.com
With a rare design language that looks straight out of a fairy tale, this style is perfect for those looking to set their homes apart from all the others. The strong legs and the warm tones of this table will make your house feel more welcoming than ever!
Classic Wood Entry Table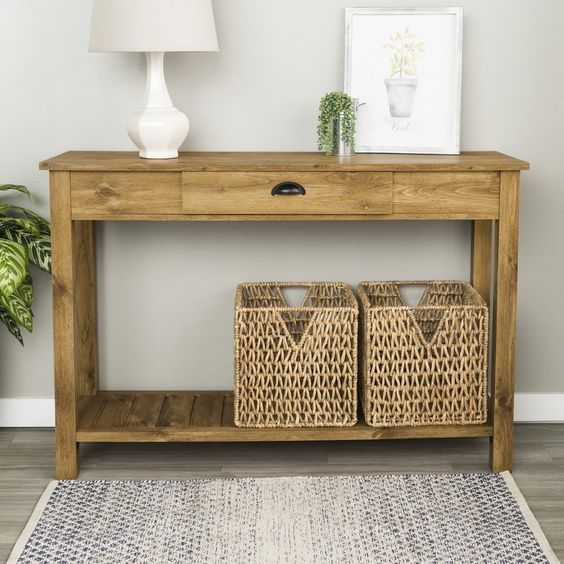 © www.birchlane.com
You could never go wrong with a timeless, ever-stylish wooden entry table. A style that simple and neutral will give your entryway a well-worn and airy look. On top of that, the traditional design allows for a wide variety of decorative elements to be placed on top including framed family pictures and potted plants.
Sophisticated Glass Design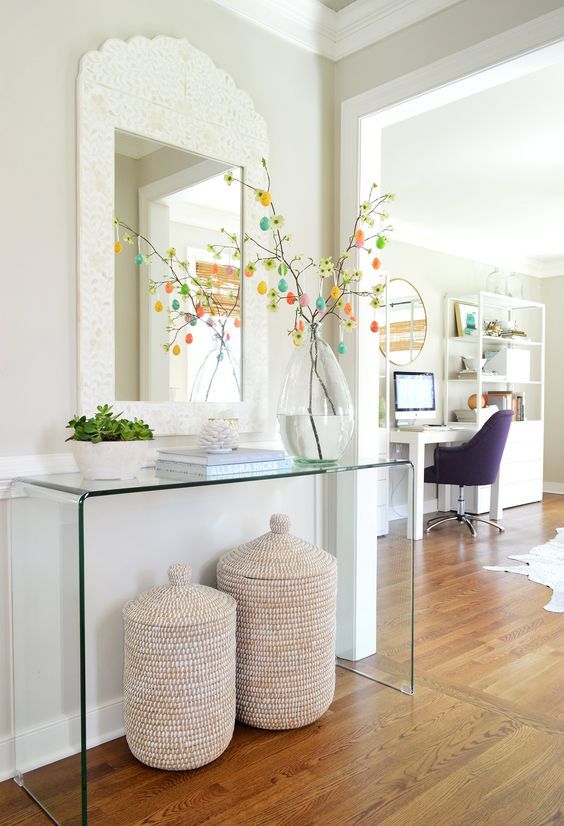 © www.younghouselove.com
No doubt, glass entryway tables have a sleek, modern and contemporary look. This style might work well for you if you wish to retain the spaciousness of your entryway while still wanting to add a furniture element to it. A glass entry table will look exceptionally good in a room with white walls and lots of sunlight.
Versailles Scrollwork

© deliasphotos.com
If you miss the magic of the old-school designs, this super classic entry table will take you back to the good old days. Just because there are new styles every day doesn't mean that old ones are fading into oblivion. Embrace your classic taste with pride for a home that radiates elegance.
Wall-hinged Entry Table

© www.lejournaldelamaison.fr
This minimalist wall-hinged table is adequate for smaller apartments. You can have the full experience of an elegant entryway without having to sacrifice losing your space! For a better look, you may also add a mirror and a few decorative items to accentuate your table and make it more pronounced.
Fun and Artistic Entry Table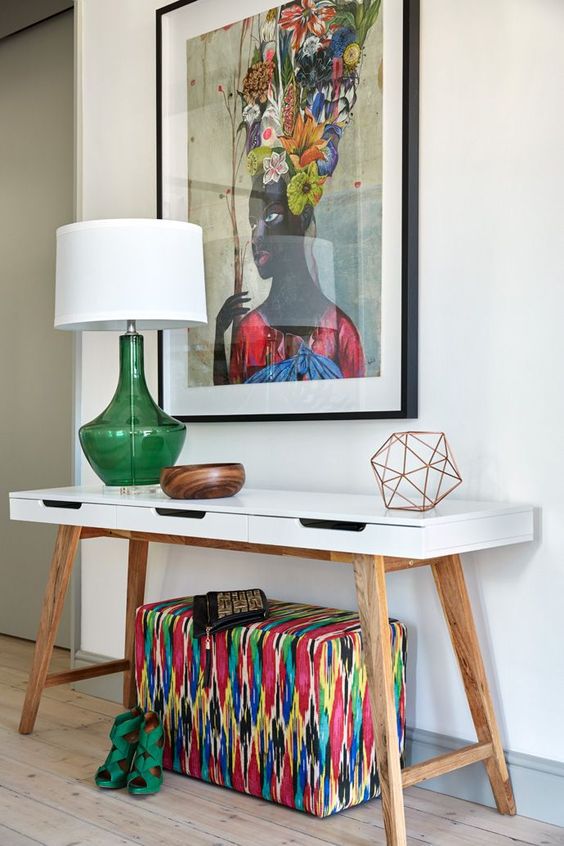 © www.visi.co.za
Your entryway is never a bad place to explore your artistic tendencies! On the contrary, some people consider it boring to have an entry table in one color and prefer to add as many colorful additions as possible. If you are one of those people, never hesitate to express yourself with a full-blown entryway art gallery! ;)
Now your turn! Which of these styles is your favorite and what's your current entryway table like? Did any of these tables make you excited to make a change?
If you love our list, share it with your friends!
For more decoration tips, check our article 7 Tips on How to Decorate your Living Room.